Adorable Gintama Mameshiba characters gather on the top page to promote the movie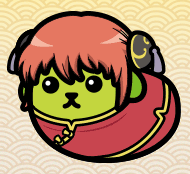 You may have seen the Mameshiba and Gintama movie collaboration commercial in the previous news report here, and now Gintama went further and hijacked their official site!
This is how the Mameshiba site top page looks like now. You can watch the latest movie trailer as well.
The Gintama movie official Twitter account also revealed that there are total of 12 Gintama characters in the bean form. The 12 characters include Kondoh, Okita, Hijikata, Sacchan, Dura (no, not Dura, it's Katsura), Elizabeth, Kyubei, Tsukuyo, Tae, Shiro Yasha Gintoki, Joishishi Katsura and Joishishi Takasugi.