Large enough to make you go "Elizabesuuuuuuuuuuuuuuuuuuuuuuuuuuuu!!"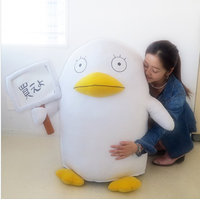 Lots of Gintama updates today! Following up on the Gintama x Mameshiba news, Premium Bandai opened reservations for the biggest official Elizabeth plushie ever made for sale.
It is 90 cm tall (approx. 3 feets) or as tall as 28 Weekly Jump stacked as you see in the image.
The plushie realistically reproduces the leg hair of the mysterious alien senpai. The sign is also changeable for you to let Elizabeth say anything you like.
Look how hard-boiled Elizabeth-senpai looks with a female fan hanging onto him. The sign says "Buy me".
It's sure to occupy significant amount of space in your room and clear out space in your wallet as it costs 34,650 yen. Or it may just be worth it for those dreamy eyes of Elizabeth. Fortunately, we are saved since Premium Bandai do not ship overseas at the current time.