Via Bandai's "HDM Souzetsu" toy line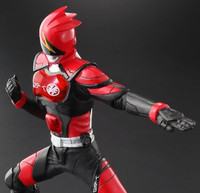 The popular sentai-satire TV series "Unofficial Sentai Akibaranger" has teamed up with Bandai's "HDM Souzetsu" toy line to release new figures.
Season 2 of the show started broadcasting in April, and has gained widespread acclaim for its irreverent story and characters based on tropes of Akihabara nerd culture.
The lineup includes the main character, Nobuo Akagi, whose delusional role in the group is the lead ranger Akiba Red; the marginal high-school idol singer Iwashimizu Luna, Akiba Blue; and finally Yuko Yokoyama, the fujoshi cosplayer who transforms into Akiba Yellow.
The figures are 105 mm tall with realistic sculpting and vivid color. Each is set into an energetic pose.
Figures are 998 yen apiece, and they go on sale June 18.
Links:
"HDM Souzetsu" Unofficial Sentai Akibaranger Season 2 Merchandise Page
Unofficial Sentai Akibaranger Season 2