Varias empresas japonesas se embarcan directamente en la aventura de emitir anime vía web.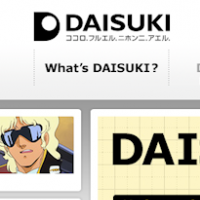 Daisuki, el nuevo servicio de streaming de anime legal para fans de fuera de Japón, ya ha abierto oficialmente. El servicio solo está restringido a Japón, con lo que se puede acceder a sus contenidos desde cualquier parte del mundo.
La web irá añadiendo cada vez más y más series, incluyendo su lista inicial de lanzamientos:
Lupin the 3rd

Mobile Suit Z Gundam

Mobile Suit Gundam Seed HD Remaster

Prince of Tennis

Puella Magi Madoka Magica

Sword Art Online
Daisuki está compuesta por varios estudios de animación y productoras japonesas como Aniplex, Sunrise, Toei Animation, TMS Entertainment, Nihon Ad Systems, Dentsu y Asatsu-DK. La web se lanzará en abril, y ya tienen planes de expandir el mercado a tablets, PlayStation 3 y Xbox 360, además de a móviles. Inicialmente la web solo ofrecerá títulos propiedad de sus accionistas, pero en el futuro trabajarán con otros estudios para añadir su contenido.
Además del anime, la web también incluirá programas relacionados con el mundo del anime, y las nuevas series que se emitan en Japón se podrán ver de forma simultánea a su lanzamiento en la web. El proyecto se rentabilizará mediante anuncios y planes de suscripción mensual, así como por contenidos de pago. También vende merchandising.
Las previsiones de la web son de conseguir 3 millones de usuarios en cinco años.
El presidente y CEO Kunihiko Shibataquiso dejar claro que la compañía espera trabajar codo con codo con Funimation y Crunchyroll, y que no tienen planes de retirar las licencias a dichas webs.
Fuente: ANN