JOYSOUND will add it to their catalog in June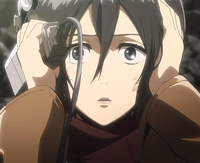 Even though only the TV version is currently available, "Guren No Yumiya" by Linked Horizon, the opening theme for Attack On Titan will be available for karaoke performance through JOYSOUND karaoke boxes in Japan in early June before the planned release of the full length version of the song on July 10th.
"Jiyuu Eno Shingeki" single cover first limided edition
Single cover regular edition
The karaoke version will still be the TV version featuring the video of the anime opening and the video will not have lyrics scrolling across as you would expect in ordinary karaoke videos. The Linked Horizon official site recommends fans enjoy the opening footage from anime and memorizing the lyrics from listening and attempting to sing it.
The Attack On Titan official Twitter responded to the challenge by saying, "Even without the lyric display, everybody can "Jaeeeegerrrrrrr" with the hot passion of the Legion's spirit".
Sound Horizon, the mother base of Linked Horizon is also known for the fact that they don't produce instrumental versions of their music, so there is a possibility that the karaoke will be the "vocalized" version just like their other songs already available in karaoke booths. Even when the written lyrics become available, some long time Sound Horizon fans caution new fans to never assume what's written in the lyrics will be pronounced in the normal way.
The most extreme opinion I found was that the official reading of the title itself is not confirmed, leaving the possibility of the song not being found under the "Ka" heading in the catalogue at karaoke centers and bars. That is a bit extreme, but it's a proof that the band never lets the fans get bored with what they will do next.
Interested in Linked Horizon after all of that? There is a fan made introduction of the band for people who got interested in the group since Attack On Titan in Japanese on Nico Nico Douga.
Source: NAVAR