El recopilatorio de la serie que se lanzará el próximo verano.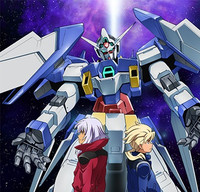 Desde Bandai Channel han mostrado un vídeo promocional de Mobile Suit Gundam AGE: Memory of Eden, proyecto que recopilará la serie de televisión (desde el arco de Asemu en adelante) para centrarse en los personajes de Asemu Asuno y Zeheart Galette.
El vídeo puede verse en este enlace.
En el anime, Asemu era el protagonista de la segunda generación, siendo Zeheart su antagonista. La serie de televisión dio comienzo en octubre de 2011, finalizando en septiembre de 2012. Poco después, el productor Masakazu Ogawa ya hablaba de planes para un nuevo proyecto en el que participarían ambos personajes.
Shinya Watada, director de episodios en la serie de televisión, será el director de Memory of Eden bajo Sunrise, contando con el guionista Noboru Kimura. Otros miembros del equipo de la serie que vuelven son Akihiro Hino como supervisor de la historia, el diseñador original de personajes Takuzo Nagano, el diseñador de personajes Michinori Chiba y el compositor musical Kei Yoshikawa. El proyecto reunirá también al cast de voces, incluyendo a Takuya Eguchi como Asemu y a Hiroshi Kamiya como Zeheart.
Se podrá conseguir en BD y DVD el día 26 de julio.
Fuente: ANN