"Nanda Collection" goes on sale June 26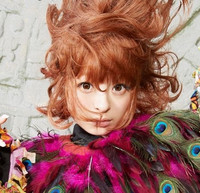 Harajuku Kawaii ambassador Kyary Pamyu Pamyu of PON PON PON fame has a new full length LP (her second) set for arrival late next month (June 26, to be exact) and the hype machine for what is being titled "Nanda Kore Ku Shon" (Nanda Collection) is now spinning in earnest.
Fans can look forward to 12 tracks written and produced by Yasutaka Nakata of Perfume and capsule fame, including the previously released tunes "Invader Invader" and "Fashion Monster".
And as you can see, Kyary has gone FULL PEACOCK for the striking sleeve art...
Jpopasia.com offers the following translation of Kyary's official statement regarding her new record:
"My second album is finally being released! It would make me happy if you guys went 'What in the world!?' when you see the limited edition cover! This album has includes all sorts of genres, from the rock song 'Fashion Monster', to the alien sounds of 'Invader Invader', so please look forward to it! This definitely won't be a disappointing album. I want everyone to listen to it."
Tracklist
1. Nanda Collection (なんだこれくしょん)
2. Ninja Re Bang Bang (にんじゃりばんばん)
3. Kimi ni 100 Percent (キミに100パーセント)
4. Super Scooter Happy
5. Invader Invader (インベーダーインベーダー)
6. Mi (み)
7. Fashion Monster (ファッションモンスター)
8. Saigo no Ice Cream (さいごのアイスクリーム)
9. Noriko to Norio (のりことのりお)
10. Furisodation (ふりそでーしょん)
11. Kurakura (くらくら)
12. Otona na Kodomo (おとななこども)
Below: Regular edition CD
Limited edition
--------
Patrick Macias is editor in chief of Crunchyroll News. He also runs the Japanese Fashion Inferno tumblr blog. Follow him on twitter at @Patrick_Macias.