Godannar, Gatchaman, AKB0048, DiGiCharat among new announcements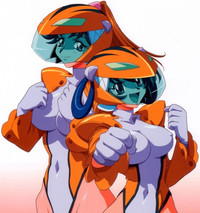 Sentai Filmworks held its panel at Anime Boston and got straight to business as it announced the following titles for release in September/October of this year:
The former ADV released Gatchaman from 2001-06 while the OVA series was released by the former Urban Vision in the year 2000. Godannar was also released by ADV in 2005, though that one will be DVD-only due to the lack of a Blu-Ray release and there is no word on whether the release will include the 2nd season that was never licensed in the US.
DigiCharat was previously licensed by former distributor Synch-Point and was released in 2005 before Synch-Point ceased operations. This release will mark its rescue, while the rest of the October slate will consist of streaming licenses released in the past year such as AKB0048, Hakuoki and Kokoro Connect.
---
Humberto Saabedra is the Owner of AnimeNews.biz, Editor-in-Chief of PhoneNews.com and an occasional columnist for Ani.me. He can also be found musing on things (and Nico Robin) at @AnimeNewsdotbiz