Plus her illustration from "Titan" cast introduction event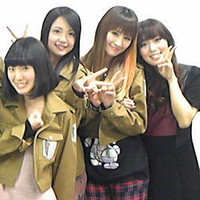 Voice actress Yuu Kobayashi at least has a couple claims to fame. First, she screeches like no one's business, as heard in her portrayals of Attack on Titan's Sasha Blaus, Gintama's Sa-chan and Azazel-san's Undine. Second, she has a style of illustration that could be called the visual equivalent of her vocal specialty. Her latest Tweeted illustration of pigeons has gotten almost 20,000 retweets in the last two days.
Earlier, during an Attack cast introduction event, Kobayashi joined the other principals drawing their impressions of the series...
Kobayashi is second row, center