The result was supposed to be announced on May 17th as part of birthday celebrations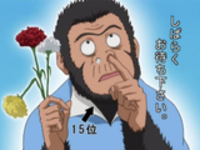 As previously reported, Shanghai Zoo was conducting an online poll for the name of the baby gorilla that was turning one year old on May 17th. One of the names was "Sorachi Hideaki", which is the name of Gintama author, who illustrates himself as a gorilla and not only was it one of the candidate names, it was the number one choice in the poll.
The ranking made Chinese Gintama fans excited and internet became a festival for the possibility that China would have a baby gorilla named after the Gintama author.
However, on April 29th, the voting site was shut down because "the misusage of internet voting was found". Shanghai Zoo announced a differnet name that was chosen by popularity and in compliance with the gorilla family naming rules.
UPDATE - The baby gorilla was named "海弟" (Chinese character for "ocean" and "little brother").
The zoo also released a statement that says, "the purpose of this poll was for citizens to have fun and to cultivate interest in animals, however, it went out of cotrol due to some internet users who lack understanding". Dissapointed fans are expressing their frustration at this development by saying the choice of Gintama author's name should not have been included in the poll from the first place.
It is too bad that there will be no real baby gorilla named after Sorachi-sensei, but it was a fun thought for a moment. In the end, it was a good thing that the baby was not named after Sorachi-sensei, because imagine how that would make Kondo san feel? The association with gorillas was his thing in the show and taking that away from him would make him just a stalker.