It's all about Haruka in the second trailer!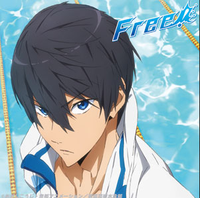 In anticipation of its debut in July, the official KyoAni Free! site released the second trailer on May 31st, Japan Standard Time. It features Nanase Haruka, the anime's main character that many fans are suspecting to be tsundere in full voice!
Haruka is voiced by Shimazaki Nobunaga, whose roles include Maeda Kazuya from Photo Kano and Sakurai Ryo from Kuroko's Basketball. The second PV not only features Haruka, but fans also get to hear a little bit of Tachibana Makoto, voiced by Suzuki Tatsuhisa of OLDCODEX who will sing the show's opening theme, "Rage on".
I don't even have to mention that this Summer season is going to be hot.