Prop making veteran builds a very realistic Entry Plug for display and to ride!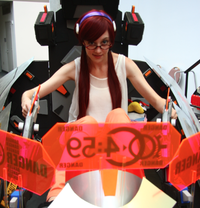 Northern California anime convention FanimeCon took over the city of San Jose, CA on Memorial Day weekend and although there were many newsworthy cosplays on display, this one definitely needed to be a story, a 1:1 ratio entry plug from EVANGELION that you can actually ride in! It has been heavily featured in photos and videos from Fanime, but I was able to talk to the propmaker on its construction.
Lionel Lum, the one responsible for this gloriousness, has been making large props for over 10 years. It took him about 3 weeks to build this one and the total cost excludeing the orange plastic pieces was only about $300! The majority of the materials used are available from Home Depot and Arts & Craft shops. He also said this bad boy disassembles easily to lay flat in his car trunk for easy transportation.
Just for comparison, this is a photo of an official entry plug that was built in 2010 in Japan. I was there to see it and I was very impressed with Lionel's version since the proportions were so accurate.
The entry plug was also one of the main features in Ackson's latest video.
Photos by Lionel Lum