As a part of the 20th anniversary project of the anime series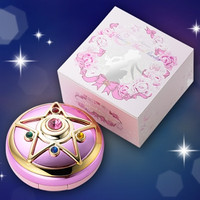 Since this is the 20th anniversary year of the Bishoujo Senshi Sailor Moon franchise, the fans may be old enough to use this kind of thing. Today Premium Bandai, Bandai's official online store, started accepting pre-orders for "Miracle Romance Shining Moon Powder." The presto powder is the first product from its real cosmetic brand "Miracle Romance" inspired by the super popular Sailor Moon series. The compact imitates Crystal Star Brooch, the transformation item which Sailor Moon used in the 2nd TV series Bishoujo Senshi Sailor Moon R (1993-1994). The price at the store is 3,980 yen (about US$39.92) and it will be shipped in October. "Miracle Romance Shining Moon Powder" will be shown to the public for the first time at Bandai's booth in International Tokyo Toy Show 2013 at Tokyo Big Sight on June 15th and 16th.
Bandai's Creer Beaute cosmetic line had released a similar product "Smilepact Shiny Face Powder,"
a real Smile PreCure! cosmetic makeup compact for adults in June, 2012. Probably it sold well enough
to produce a same kind of anime-inspired cosmetic for adults more.
Smile PreCure! inspired "Smilepact Shiny Face Powder" released in June, 2012
Source: press release
© Naoko Takeuchi/PNP/Toei Animation
© ABC/Toei Animation