1,995 tweets in one minute on Sunday morning of June 2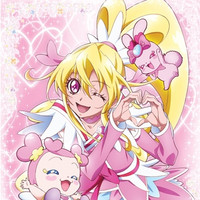 Yahoo! Japan reported on June 4th that the newest PreCure TV anime series Dokidoki! PreCure was the most tweeted Japanese TV program in one minute on Twitter in the Metropolitan area between May 27th and June 2nd, defeating popular J-drama Kazoku Game starring Arashi's Sho Sakurai. The area includes Tokyo, Chiba, Kanagawa, Saitama, Ibaragi, Tochigi, Gunma, and Yamanashi.
During the broadcast of the 18th episode of Dokidoki! PreCure "Shutsugen! Saigo no Royal Crystal!" (The final Royal Crystal appears!) on June 2nd, it was tweeted 1,995 times on Twitter at 8:50 am., while the 7th episode of Kazoku Game aired on May 29th got 1,930 tweets at 11:08 pm. Checking my recording on last Sunday, the time was exactly when the transformation scene of the four PreCure girls (Mana/Cure Heart, Rikka/Cure Diamond, Alice/Cure Rosetta, Makoto/Cure Sword) began. The number was almost twice more than the 33rd episode of Aikatsu!, the 2nd in the TV anime/tokusatsu ranking.
Considering the great popularity of the long-running PreCure series in Japan, the result is no surprise at all.
Check the tweet ranking of "Overall" and "Anime/tokusatsu" below.
Overall ranking Top 10 (May 27-June 2)
1. "Dokidoki! PreCure!" (anime) Episode 18: June 2, 8:50 am - 1,995 tweets
2. "Kazoku Game" (drama) Episode 7: May 29, 11:08 pm - 1,930
3. "Music Station" (music show): May 31, 8:51 pm, - 1,489
4. "Last Cinderella" (drama) Episode 8: May 30, 10:01 pm, - 1,366
5. "Terrace House" (reality show): May 31, 11:01 pm - 1,153
6. "Aikatsu!" (anime) Episode 33: May 30, 6:01 pm - 1,059
7. "Paradise Kiss" (movie): May 31, 9:05 pm - 1,047
8. "Haiyore! Nyaruko-san W" (anime) Episode 7: May 27, 1:08 am - 1,033
9. "Syabekuri 007" (talk show): May 27, 9:05 pm - 898
10. "Photo Kano" (anime) Episode 9: May 31, 2:14 am - 892
Anime/tokusatsu ranking Top 10 (May 27-June 2)
1. "Dokidoki! PreCure!" Episode 18: June 2, 8:50 am - 1,995 tweets
2. "Aikatsu!" Episode 33: May 30, 6:01 pm - 1,059
3. "Haiyore! Nyaruko-san W" Episode 7: May 27, 1:08 am - 1,033
4. "Photo Kano" Episode 9: May 31, 2:14 am - 892
5. "Space Battleship Yamato 2199" Episode 9: June 2, 5:27 pm - 818
6. "Kamen Rider Wizard" (tokusatsu) Episode 38: June 2, 9:25 am - 772
7. "Zyuden Sentai Kyoryuger" (tokusatsu) Episode16: June 2, 7:59 am - 754
8. "AIURA" Episode 8: May 29, 1:37 am - 651
9. "Valvrave the Liberator" Episode 8: June 1, 2:01 am - 604
10. "My Teen Romantic Comedy SNAFU" Episode 9: May 31, 1:37 am - 580
"Dokidoki! PreCure" series key visual
DVD vol.1 (May 29 release)
DVD vol. 2 (June 28 release)
Source: Internet Watch
© ABC/Toei Animation