4 different designs available including Chamber, Amy & Ledo, Amy and Bellows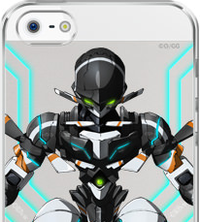 Are you up to date with Gargantia on the Verdurous Planet? I'll refrain from saying anything about how the show is going to avoid any spoilers, but the official site posted photos of new smart phone covers in 4 different designs! The designs are of Amy, Ledo, Chamber and Bellows!
The Chamber cover shown above. The characters are printed on a clear base, so it matches with your iPhone 5 no matter which color you have. The image is a preliminary design and not the photo of the actual product.
Amy and Ledo cover.
Amy cover. Normal Amy is really cute, but I would have liked to see the dancer version with her friends, too!
Bellows cover.
The iPhone 5 covers will be on sale on June 13th, through the Chara Mode store and other retailers such as Amazon for ¥2980 yen. Other smartphone covers will be released as they become available. Now that we have a Chamber cover on our phone, if they can make an app that replaces Siri's voice with Chamber voice, I would gladly donate my bank account (figuratively of course).