Yana Toboso posts special illustration for Devil's Day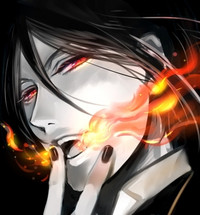 Apparently, June 6 is celebrated as "Devil's Day" because of the association with number 6, especially among Kuroshitsuji fans. Manga author Toboso Yana posted her special illustration dedicated to the day featuring one hell of a butler and his young master through the official Kuroshitsuji Twitter account a few minutes after the day had ended in Japan.
Toboso sensei's excuse for posting it late was because "it is still June 6th in the UK". Sounds like she did this for fans even when her work schdule was very tight. She also explained that the reason the size of Sebastian's right hand is so huge is because it is extended forward and apologized for the lack of skill to show it in the illustration.
She posted this illustration on Devil's Day in 2010 on her blog, Devils 6th Day.
The 2012 illustration featured a "devil's burp". How is it be so beautiful?
On the blog entry for the Devil's Day 2013 illustration, Toboso sensei remembered how the blog started in 2006 when the Kuroshitsuji manga was first published. Since then, the blog moved twice and lost about 2 years worth of entries, but she is very grateful for her fans to keep coming back to her blog even though it is not updated as frequestly as she would like.
It has been 6 years since Kuroshitsuji was born and this is the 6th day of the 6th month of 2013. It's perfect to celebrate it with beautiful illustrations by Toboso sensei.