The results may surprise you as much as some of the characters first did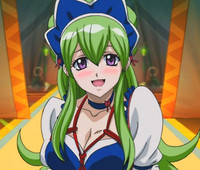 Who is your favorite cross-dressing male character? Cross-dressing and gender-bending is so common in anime and manga that there are many convincing boys who dress like girls and those who don't even have to try to fool others. Japanese anime portal AnimeOne recently posted the results of a recent user-hosted poll to decide which male character from anime is the most convincing crossdresser and the poll collected a total of 2420 votes. Here are the Top "20", featuring a tie for 19th place.
#1 Tosuka Saika from My Teen Romantic Comedy SNAFU 296 votes
#2 Kusunoki Yukimura from Boku Ha Tomodachi Ga Sukunai 233 votes
*There is a request to remove this entry due to the fact that it was revealed in Haganai NEXT, but it has not been done at the current time by the owner of this poll. Please watch out for the spoiler in comments.
#3 Kinoshita Hideyoshi from Baka To Test To Shoukanju 218 votes
#4 Makoto (Mako chan) from Minamike 154 votes
#5 Mariandale from Ixion Saga DT 131 votes
#6 Sasaki Yuta from Cuticle Detective Inaba 127 votes
#7 Tsukimiya Ringo from Uta no Prince Sama 115 votes
#8 Hastur from Nyarko-san: Another Crawling Chaos 111 votes
#9 Yuuki Kei from Moyashimon 106 votes
#10 Zurako (Katsura Kotarou) from Gintama 101 votes
#11 Ayasaki Hamaioni (Hayate) from Hayate the Combat Butler 97 votes
#12 Tsuda Nobusumi from The Ambition of Oda Nobuna 89 votes
#13 Shidou Mariya from Maria Holic 76 votes
#14 Array from Lagrange: The Flower of Rin-ne 73 votes
#15 Naoe Riki from Little Busters! 63 votes
#16 Urushibara Ruka from STEINS;GATE 61 votes
#17 Nitori Shuichi from Hourou Musuko Wandering Son 54 votes
#18 Hyoudou Aoi from Kaichou Ha Maid Sama! 42 votes
#19 Hayama Tatsukichi from MM! and Ana Gram from Phi Brain 41 votes

(No #20 due to having two #19)
Is it safe to say it would have been a face-off between Saika vs. Hideyoshi if there was no #2? Both characters don't have to crossdress to look like a pretty girl. Notable mentions are Fukuyama Jun and Nakamura Yuuichi for voicing Mariandale and Ringo and still be considered convincing. Did your favorite crossdesser make the list?