Hot news, big features, and stories you may have missed!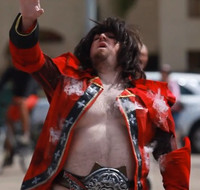 This is pretty much the last time we'll get to use the term "pre-E3," with the expo leaping into full swing this coming week. It should be interesting to see what the big three have to show as far as games go, and we'd love to know what you're looking forward to. But before we peer into the future we must look into the past with a CrunchyNews recap!
Below you'll find a bevy of hot stories, features and video posted throughout the week. But that's not all. We've also compiled a few stories we missed, so be sure to check those out, as well.
Follow us at the official Crunchyroll Twitter!
BLAZIN' STORIES!
Poll Ranks Top 10 Anime Couples
Sega Confirms "Hatsune Miku: Project Diva F" for Western Release
Kiefer Sutherland to Voice Snake in "Metal Gear Solid V"
"Fairy Tail" Author Teases Upcoming Announcement
New "K-On!" Visual Invites Fan Speculation
HOT STORIES
Fan Made 1:1 Ratio "Evangelion" Entry Plug Debuts At FanimeCon
"Hakkenden" Anime's Official Site Updated Ahead of Second Season
See the "Pokémon" Color Wheel!
Latest "Infinite Stratos" Visuals
Namco Bandai Shares First "Tales of Symphonia Chronicles" HD Screens
Lolita Model Bungee Jumps Into "Attack On Titan" Cosplay
Crunchyroll Adds "DD Fist of the North Star" to Anime Lineup
"Attack on Titan" Cosplay Bungee Jumping
Capcom Confirms "Ducktales Remastered" for PC
"Attack on Titan" Joke Inspires Bunny Girl Armin Fan Art
"Free!" Adds Female Cast and Debuts Latest Visual
Bleach's Ichigo and Himura Kenshin Confirmed For "J-Stars Victory VS"
Sailor Moon Inspired Real Cosmetic for Adult "Miracle Romance Shining Moon Powder"
Hiro Mizushima Drops Down to 110lbs to Star in Live-Action "Black Butler"
Linked Horizon to Return for Second "Attack on Titan" Opening
"Sailor Moon" Stage Musical Set For September Revival
Latest Visual and Cast List for Hayao Miyazaki's "The Wind Rises"
"Attack on Titan" Capsule Figures Previewed
Otaku Entrepreneur Developing Smart Doll
"Soul Eater" Manga to End This Summer
"Golden Time" Anime to Air This Fall
Cinema Staff to Perform New "Attack on Titan" Ending
"Kuroshitsuji" Author Celebrates "Devil's Day" With New Illustration
Insomnia? Let Kuro from "K" Help You Sleep with A New Android App
Cospa Prepares "Attack on Titan" Military Emblem T-shirts and Cap
Xbox One Lets Publishers Decide About Used Games, Must Go Online Daily
"Attack on Titan" Branded Curry is a Real Product
"Attack on Titan" Soundtrack Gets an Eye-Grabbing Cover and Jaw-Dropping Track List
Behold the "Lightning Returns: Final Fantasy XIII" PS3 Controller
Japanese Otaku Vote On Top "20" Most Convincing Crossdressing Males In Anime
FEATURES
"Photo Kano" Exhibition at Tokyo Anime Center in Akihabara
"Naruto" Goods Collection at Tokyo Anime Center
Fanart Friday - Shipping Industry Edition, Part I
Ani-Gamer Impressions: Attack on Titan Episodes 1-7
TOP VIDEOS
Latest Look at Ro-Kyu-Bu's "Loli Sports Stealth Adventure" PSP Game
Scorpion from "Mortal Kombat" Joins "Injustice" Roster as DLC
Masked Fan Performs "Valvrave" Theme on Violin
"The Legend of Zelda: Link's Shadow" Live-Action Fan Film
Happy Birthday, Anime Voice Actress/Singer Megumi Nakajima!
First "It's Not My Fault That I'm Not Popular!" Anime Promo
"Lightning Returns: FF XIII" Gets 2014 Date and New E3 Trailer
Latest "Blood Lad" Anime Preview and Commecial
Top Notch New "Madoka Magica" x "Attack on Titan" Mash-Up
SOME STORIES WE MISSED!
A Closer Look At The Monster Hunter 4 Limited Edition 3DS XL Systems [Siliconera]
Lionhead teases Fable HD remake [Joystiq]
Shovel Knight nemesis the Black Knight unveiled [Destructoid]
One Piece Voice Actor Takkou Ishimori Passes Away [ANN]
As always, thanks for tuning in to CrunchyNews and hanging out with us this week. Let your voice be heard if you have any suggestions, or just general comments for us!
-------
Joseph Luster is the Games and Web editor at Otaku USA Magazine. His blog can be found at subhumanzoids. Follow him on Twitter at @Moldilox.