First actual gameplay trailer shows off fast-paced action... and a little surprise for "Kingdom Hearts" fans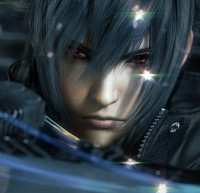 For those of you watching Sony's E3 conference, there were a lot of big announcements, which we'll be covering shortly--but I think this is the one that really meant something for you guys.
I've made jokes about Final Fantasy Versus XIII, the sorta-vaporware title that was announced at the same time as Final Fantasy XIII, but a new trailer showed off some gameplay--and the surprise reveal that Final Fantasy Versus XIII is now titled Final Fantasy XV. Check it:
I'm honestly really liking the "glam mafia" angle that this one is taking. In addition to the Final Fantasy XV reveal trailer, we also got a short teaser for a certain title that gamers have been asking about since Kingdom Hearts II landed in 2005:
You may begin freaking out now.
Truth of the matter is, I fell out of love with Kingdom Hearts a very long time ago, but I'm actually excited all over again. Final Fantasy XV and Kingdom Hearts III are both coming to the PlayStation 4--will you be picking one up?