$399 price point, a few launch titles unveiled, how PS+ will work, and yes, you can still play used games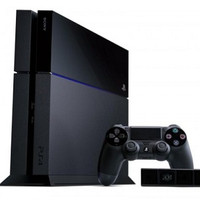 Okay, so I got the big news out of the way, but there's still a lot more to be said about Sony's Electronic Entertainment Expo conference, which just wrapped up earlier tonight. For starters, the hardware for the PlayStation 4 was finally revealed, and it really impressed me with how tiny this thing is.
So what, is the PS4 Slim gonna be the size of an iPad?
When we saw somebody bring it out during the conference, it was pretty small--about the size of a large book. The tiny, angled PS4 will launch at $399, supports used games, will not impose any new restrictions on new or used titles, and will let you trade in, sell, lend, or keep your games for as long as you want. Sony's been twisting the knife a little (okay, a lot) with this video:
Sony President Jack Tretton concluded with the quote:
"Concepts like 'true consumer ownership' and 'consumer trust' are important to everything we do."
Along with trailers of upcoming PS3 exclusives like The Last of Us and Beyond: Two Souls, trailers were revealed for multiplatform titles like Batman: Arkham Origins (which will come with PS3-exclusive costume DLC) and a haunting, downright beautiful game titled Rain. Sony also revealed a number of PS4 launch titles, including the more-of-the-same-looking Killzone: Shadow Fall, arcadey social-enabled racer DriveClub, and the awesome cartoon-styled adventure Knack. In addition, Infamous: Second Son will be available in Q1 2014, letting you wreak havoc in a futuristic Seattle.
Throughout the conference, Sony constantly described the PS4 as a system where developers big and small can unleash their talents. The best moment for me was the trailer for Supergiant Games' (Bastion) new isometric adventure Transistor, but other hot indie titles were announced to make their console debuts on PS4--check out this list.
-Klei Entertainment (Shank, Mark of the Ninja) showed off the ruthless action/survival game Don't Starve.
-Tribute Games (Scott Pilgrim vs. the World) kicked all kinds of ass with the Contra and Metal Slug-inspired Mercenary Kings.
-Young Horses get weird with the trippy OctoDad: Dadliest Catch, sequel to the awesome freeware game.

-Switchblade Monkeys showed off a top-down shooter "combining elements of shooters and fighting games" with Secret Ponchos.
-Ragtag Studio (Unstoppable Fist) are giving us a cool zombie puzzler with Ray's the Dead.
-Red Barrels debuts with the terrifying first-person survival-horror game Outlast.
-Lorne Lanning and the Oddworld Inhabitants return with Oddworld: New and Tasty for PS4, a full remake of the PS1 original.
-Finally, 17-Bit Games (Skulls of the Shogun) is going to demand old-school skills with its open-world shmup Galak-Z.
A new IP was also shown off for PS4--The Order: 1886, a Victorian sorta-steampunk action-horror title by Sony Santa Monica and Ready at Dawn, as well as a hilarious all-real-time tech demo titled The Dark Sorcerer by Quantic Dream (Heavy Rain). A gritty post-apocalyptic trailer seemed like Fallout, but turned out to be a Mad Max game, which I think is better.
Now, here's something I need to say before I get to PlayStation Plus--I don't like the service that much. I spend a lot of time playing games online, and on Live, I'm basically paying for good online, even on launch titles like Dead or Alive 4, while even now my PS3 struggles to hold a steady connection during games of Street Fighter X Tekken. All the "free games" that PS+ "gives" me are games that I already own (and then I don't get to keep them if I cancel the service). But I understand why it's popular. And from what I took away, Sony's making it better.
On the PS4, online play will require a PlayStation Plus account, which sounds like we're getting better online. Don't worry, though--you'll still be able to play all your single-player games without a PS+ membership. In addition, you'll still get all the current perks of PS+, including the beloved Instant Games Collection. For PlayStation Plus members, you'll automatically get a copy of PS4 launch title DriveClub as part of your Instant Games Collection.
Even I find this appropriate, and I think the whole "console war" thing is idiotic.
To wrap the whole thing up, a gameplay demo of the upcoming Bungie-Activision collaboration Destiny took us through a ruined wall guarding off a seemingly abandoned city, featuring the tense, tight action Bungie did so well in the Halo franchise. Sony also announced that they have a partnership with Bungie and Activision for special content exclusively for Destiny's PS4 players.
We'll get more trailers and details up as they become available--remember, there's still two more days of E3 left! From what we've seen, what do you think about the PlayStation 4?