2ImageSolutions offered pillows at AnimeNEXT in New Jersey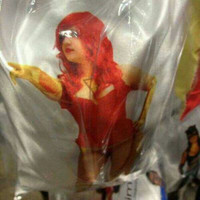 For some attendees at AnimeNEXT (which ran June 7th through the 9th), the weekend brought an ugly shock in the dealer's room: a company called 2ImageSolutions, a 360-degree photography booth run by Eric Pearce had a little something different for sale - hugging pillows featuring cosplayers on the front and back. The problem? The cosplayers affected had no idea they were on the pillows.
The story progressed the way these things normally do: one cosplayer recognizes another, gets in contact, and the whole thing explodes. In this case, it was Carrie Wink who spotted the strange merch, featuring Dustin Dorough (Superman) and Marie Grey (Dark Phoenix). The con got involved, and after a lot of back-and-forth, 2ImageSolutions and their pillows were allowed to stay.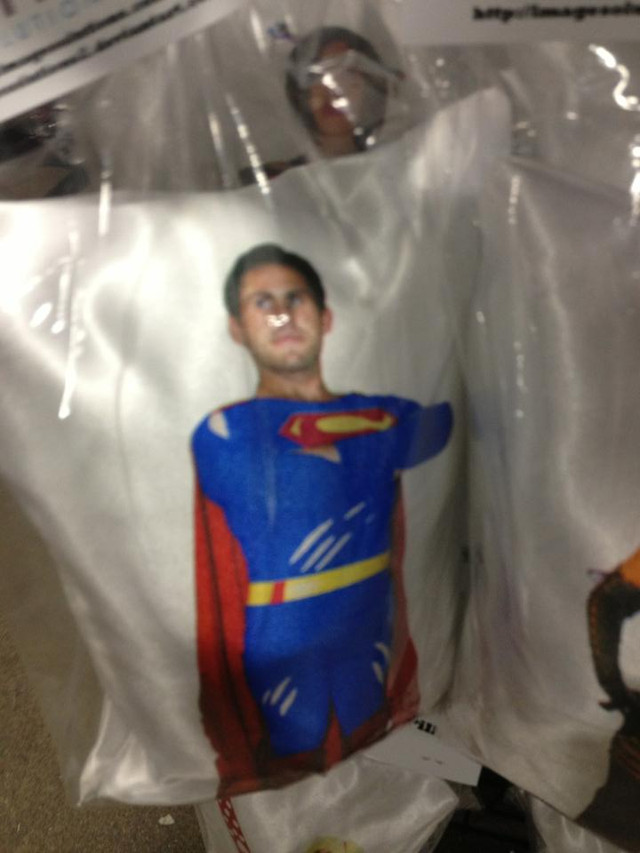 Why? According to the email Eric sent out an email to a handful of media outlets (including Crunchyroll News),
"Legally, I do have the right to reproduction right. The first paragraph (of the consent form) states "For Consideration herein acknowledged as received, and by signing this release I hereby give the Photographer / Filmmaker and Assigns my permission to license the Content and to use the Content in any Media for any purpose (except pornographic or defamatory) which may include, among others, advertising, promotion, marketing and packaging for any product or service." And then they sign. I even try to communicate that it is a model release and provide examples like I would like to post it to DeviantArt or other products. I try to communicate the information but I have very few seconds. Most of the time, people are not listen to me and sign no matter how hard I try to communicate the information. I am rather sorry that they insist that I am legally overstepping my bounds. Morally, this is a slippery slope but one that I do not think I have done anything wrong or immoral."
The cosplayers were outraged - and who can blame them? It got worse, according to Marie Grey's blog post:
"We learned what was on the back of the pillows…our butts. So not only do I have to deal with the idea of having my image all over pillows, but now I have to deal with the fact that my rear end is on every single one of them. As if cosplayers don't already have to deal with being over-sexualized, now this vendor is promoting that idea."
Luckily, their efforts paid off. As of the evening of the 10th, 2ImageSolution's web site vanished, and the following post appeared on their DeviantArt account:
"At our booth, we had pillows and prints of a few costumes that were available for purchase. We were VERY selective with the ones we chose, and out of the hundreds and hundreds of panoramas we have taken, only a handful were used (about 10 of them). We chose the ones that we felt were the best of the best and exemplified the spirit of the event. Although each of the people we used signed a model release, some of people were upset that we used their images. We did not mean to upset people, and felt that people chosen would be flattered to be among the few chosen.
As a result, our business model has changed:
In the past, we were selling products with images of others as well as custom-ordered prints of themselves. This was meant to inspire people to elevate the level of their own costumes. We would like to assure participants that any pictures of them that we have taken WILL NO LONGER BE SOLD AT OUR BOOTHS OR AVAILABLE TO THE GENERAL PUBLIC. The products will be available ONLY to those of whom the pictures were taken. Any future products will be special-order so that the attendees will be able to order prints and merchandise of themselves and themselves only.
We would like everyone to know that their privacy is of utmost importance to us and that we did not intend to violate their privacy in any way. 2imagesolutions will still honor our commitment to send the attendees the 360° pictorials by email in a Flash file, but would like to reemphasize that they will not be distributed in any way to anyone other than themselves without their express permission.
We are instituting this change as a result of feedback we received. We appreciate your understanding and assure you that our intentions were to celebrate the events and attendees of these events for their enthusiasm and the efforts they put into creating fun and unique costumes.
As a sign of good faith, we will send any prints and pillows we have already created to the people printed on them free-of-charge. This will enable them to decorate their rooms with them or share them with friends and family as they see fit."
So much for not having done anything wrong or immoral.
Considering the push to establish boundaries in the cosplaying community, which has led to the "Cosplay is Not Consent" campaign, this is a pretty shocking abuse of a model release form. While the pillows are off the market, for the cosplayers in question the event is still pretty disturbing. Or, as Dustin Dorough put it, "I just want it all to be over, really. I mainly use my costuming life to further my charity efforts, and I don't like having it tarnished with all of the negativity surrounding the pillow madness."
-------
Amanda Rush is the Associate Editor for Ani.Me and contributor for OtakuCollectionDX. She swears in the middle of the night on Twitter as @TheAnimaven.