Featuring the color of the five sailor soldiers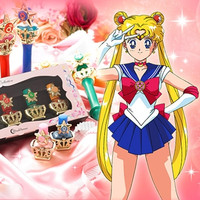 Following "Shining Moon Powder" which is scheduled to be released in October this year, Bandai Premium will also start accepting pre-orders for "Miracle Romance Nail Collection," the second product from its real cosmetic brand "Miracle Romance" inspired by the super popular Bishoujo Senshi Sailor Moon series tomorrow on June 12th. The brand is launched to celebrate the 20th anniversary year of the Sailor Moon franchise.
The colors of the five nails (pink, red, blue, green, orange) are taken from the five sailor soldiers in the 2nd TV series Bishoujo Senshi Sailor Moon R (1993-1994). And the parts for the nail pots imitate the shape of the transformation items used in the series. The price for the nail set at the Bandai Premium store is 5,250 yen (about US$53.45) and it will be shipped in October.
Source: press release
© Naoko Takeuchi/PNP/Toei Animation
© ABC/Toei Animation