"AIUEOngaku" featured on GReeeeN's new album to be released on June 19th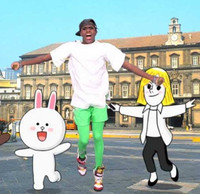 The opening to the Line Town anime, performed by the J-rock band GReeeeN, gets a new makeover as celebrity choreographer JONTE' jumps into dance with animated characters from the Line SNS. Prepare yourself for a massive dose of "WTF Japan?" below!
GReeeeN's new album is set for release on June 19th, and the song featured here "AIUEOngaku" (whose lyrics feature all 50 hiragana from the Japanese language) is the first video. Dancer JONTE' is complicated but is a major celebrity presence in Japan. Put it all together, sprinkle with magic dust from the LINE messaging app, and you have….the internet!
--------
Patrick Macias is editor in chief of Crunchyroll News. He also runs the Japanese Fashion Inferno tumblr blog. Follow him on twitter at @Patrick_Macias.