Voice actors for Toriko and Gintoki cosplay their respective characters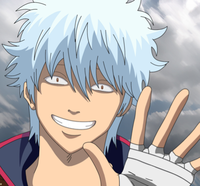 The director of Japanese cosplay TV show "Cos Cos Play Play" released the first photo out of their upcoming TORIKO and Gintama feature episode on his Twitter account and the show's blog. The show is hyping the episode by saying it will be one of the legendary episodes of the show. One of the reason is the fact the featured guests, voice actor Okiayu Ryutarou cosplayed Toriko and Sugita Tomokazu cosplayed Sakata Gintoki.
They look great, don't they? According to the blog, they will perform lines from each shows by the request of the fans in the episode.
Okiayu san with the script at the episode shoot. The featured episode is to promote the upcoming films since both Gintama and TORIKO have feature films at theaters in July in Japan.
The episode will run at 9pm of June 28th on CS Fuji TV ONE, Japan Standard Time. The blog says it will keep releasing photos from the episode until the day of broadcast.