"DEVIL SURVIVOR 2 the ANIMATION" OP theme takes the top spot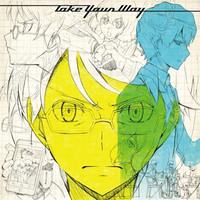 The TOWER RECORDS Shinjuku store in Tokyo has announced the weekly TOP 10 anime single/album of June 3-9. The number one single of the 23rd week of year 2013 is livetune adding Fukase's "Take Your Way" which was released in Japan on June 5th. The song is featured as the OP theme for the 2013 Spring TV anime DEVIL SURVIVOR 2 the ANIMATION. And "Each and All" by livetune adding Rin Oikawa in the CD was used as the ED song for the 10th episode of the anime. The anime is based on Atlus' popular Nintendo DS game in 2011, Shin Megami Tensei: Devil Survivor 2. The CD also gets a solid 12th place in the Oricon weekly single ranking selling 9,776 units in the first week.
DEVIL SURVIVOR 2 the Animation is available to Crunchyroll's audience in USA, Canada, UK, Ireland, South Africa, Australia, New Zealand, Netherlands, and Scandinavia.
Weekly Top 10 (June 3-9, 2013)
1 (new). "Take Your Way"
livetune adding Fukase (DEVIL SURVIVOR 2 the ANIMATION OP)
2 (new). "RAYVE"  
RAY (1st album)
"As for me" short PV (a new song for the album)
"sign" short PV (Ano Natsu de Matteru OP)
3 (new). "Owaranai Uta"
Yoko Hikasa (2nd single/Hal theme song)
4 (new). "Enjoy☆Full"
Nobuhiko Okamoto (voice actor/2nd album)
TV CM
5 (new). "YURUYURI♪1st.Series Best Album Yuruyurhythm♪"
6 (new). "Kotonoha"
Piko (7th single/Katanagatari noitamina ver. ED)
TV CM
7 (3). "Warai no Kamisama ga Oritekita!"
Hyadain (7th single/Waragamisama wa Totsuzenni... theme song)
8 (new). "Uta no Prince-Sama Maji LOVE 2000% Idol Song Cecil Aijima"
Cecil Aijima (CV: Kosuke Toriumi)
9. "Mirai Scope"
marble (4th album)
TV CM
10 (7). "Preserved Roses"
T.M.Revolution & Nana Mizuki (Valvrave the Liberator OP)
---
2013 archive
TOWER RECORDS Shinjuku Weekly Anime Song TOP 10 December 17-January 6
TOWER RECORDS Shinjuku Weekly Anime Song TOP 10 January 7-13
TOWER RECORDS Shinjuku Weekly Anime Song TOP 10 January 14-20
TOWER RECORDS Shinjuku Weekly Anime Song TOP 10 January 21-27
TOWER RECORDS Shinjuku Weekly Anime Song TOP 10 January 28-February 3
TOWER RECORDS Shinjuku Weekly Anime Song TOP 10 February 4-10
TOWER RECORDS Shinjuku Weekly Anime Song TOP 10 February 11-17
TOWER RECORDS Shinjuku Weekly Anime Song TOP 10 February 18-24
TOWER RECORDS Shinjuku Weekly Anime Song TOP 10 February 25-March 3
TOWER RECORDS Shinjuku Weekly Anime Song TOP 10 March 4-10
TOWER RECORDS Shinjuku Weekly Anime Song TOP 10 March 11-17
TOWER RECORDS Shinjuku Weekly Anime Song TOP 10 March 18-24
TOWER RECORDS Shinjuku Weekly Anime Song TOP 10 March 25-31
TOWER RECORDS Shinjuku Weekly Anime Song TOP 10 April 1-7
TOWER RECORDS Shinjuku Weekly Anime Song TOP 10 April 8-14
TOWER RECORDS Shinjuku Weekly Anime Song TOP 10 April 15-21
TOWER RECORDS Shinjuku Weekly Anime Song TOP 10 April 22-28
TOWER RECORDS Shinjuku Weekly Anime Song TOP 10 April 29-May 5
TOWER RECORDS Shinjuku Weekly Anime Song TOP 10 May 6-12
TOWER RECORDS Shinjuku Weekly Anime Song TOP 10 May 13-19
TOWER RECORDS Shinjuku Weekly Anime Song TOP 10 May 20-26
TOWER RECORDS Shinjuku Weekly Anime Song TOP 10 May 27-June 2
Source: Mantan Web