Comes in 3 flavors for Gintoki, Kagura and Hijikata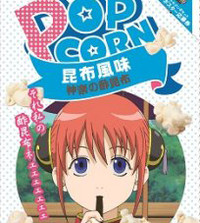 Many updates for the forthcoming Gintama movie are building up excitement ahead of the premiere on July 6th in Japan. Comic Natalie posted an update to the feature film and confirmed that Gintama branded popcorn will also be available at selected theaters.
The popcorn comes with a drink, an exclusive movie handkerchief and a chance to win an autographed movie poster, all for the price of 650 yen. There are 3 flavors to go with 3 popular characters from the show, Konbu (seaweed) flavor for Kagura, Anko (red bean paste) flavor for Gintoki who says "I will be the sugar king!!" on the package and of course, mayo flavor for the soldier of love, Mayora 13, a.k.a. Hijikata Toshirou.
Director Takamatsu Shinji noticed something obvious and tweeted in the honor of forgotten menber of the Yorozuya. "Only if the glasses come in flavors", some followers replied. According to Takamatsu, there was Shinpachi flavored popcorn ("plain" flavor) during the previous screenings of the Benizakura movie, but Shinpachi merchandise did not make it this time around.
(c)空知英秋/劇場版銀魂製作委員会