Anime Expo plans also laid out in live streaming event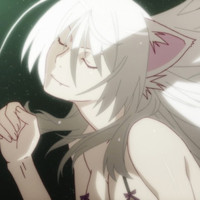 During a live streaming event, Aniplex of America announced that they'll be bringing Nekomonogatari (Black) to North America.
Nekomonogatari (Black), from Nisio Isin's (Bakemonogatari, Nisemonogatari) supernatural series, finds Koyomi Araragi run over by a car, dealing with vampires and contending with possessed class rep Tsubasa Hanekawa over the Golden Week holidays. The anime aired December 31st before March and April Blu-ray releases.
This summer's Monogatari Series Second Season will also be simulcast streaming in North America.
The two cour series will cover material from the Nekomonogatari (White), Kabukimonogatari, Hanamonogatari, Otorimonogatari,Onimonogatari and Koimonogatari light novels.
Plans for a theatrical run of the Blue Exorcist movie were also announced.
The Eleven Arts limited engagement for the movie run will be shown at:
CITY

THEATER

DATE

Los Angeles, CA

2013/8/17 (Sat) 7PM

2013/8/17 (Sat) 8:45PM

San Francisco, CA

2013/8/17 (Sat)

Houston, TX

2013/8/17 (Sat) 7:30PM

Katy, TX

2013/8/17 (Sat) 7:30PM

Chicago, IL

2013/8/17 (Sat) 9PM

New York, NY

2013/8/17 (Sat) 9PM

2013/8/18 (Sun) 9PM


The entire Blue Exorcist English voice cast will reprise their roles in this original story set for the big screen.


Set at a time when True Cross Academy is in the midst of preparing for a festival celebrated every 11 years, a mysterious demon named Usamaro suddenly appears. Since Usamaro's appearance, strange events have been happening across True Cross Academy. It's up to Rin and the other exorcists to figure out what's going on before their city falls apart.
Aniplex also announced some Anime Expo plans. Their convention exclusive Sword Art Online wall scroll will be offered at their booth, along with replica Nervegear and Fate/zero, Valvarave, Blast of Tempest, and Magi.
AoA's panel is planned for 5:15-6:15 Thursday afternoon at AX. First 1,000 people get a door hanger.
A-1 Pictures panel 4:30-5:30 Saturday at AX.
Fate Zero dub 14-15 1:45-3:15 Friday with Q&A afterwards at AX.
Blue Exorcist movie shown will be show 4-6 Friday
------
Scott Green is editor and reporter for anime and manga at geek entertainment site Ain't It Cool News. Follow him on Twitter at @aicnanime.