Plus a look at Nintendo 3DS card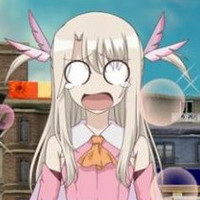 After a number of short promos for this summer's Fate/kaleid liner Prisma Illya anime, there's a second extended preview of the adaptation of the magic girl take on the Fate series, from the studio and director of the Baka and Test anime, with Baka and Test creator Kenji Inoue supervising the scripts.
Cast includes
Illyasviel von Einzbern - voiced by Mai Kadowaki
Based on the manga, from Fate doujinshi-creator-gone-official Kalmia, this magical girl version of Illyasviel von Einzbern gathers Class Cards.
Rin Tohsaka
In Prisma, Rin and Luvia were Class Cards collecting magical girls until their rivalry grew so heated that the Ruby and Sapphire Kaleidosticks abandoned them, after which Rin and Luvia took on Illya and Miyu as proxies for their competition.
Miyu Edelfelt - voiced by Kaori Nazuka
Illya's mysterious rival
Luviagelita Edelfelt - voiced by Shizuka Itō
Luvia previously appeared in the mainline Fate series, most notably in visual novel Fate/hollow ataraxia, as a classmate/rival of Rin at the Mage's Association academy, Clock Tower. Her specialties include use of a pro-wrestling-like martial art.
Magical Ruby - Naoko Takano
Magical Sapphire - Miyu Matsuki
Pop unit StylipS (Saki - Episode of Side A) are down for the anime's end theme "Prism Sympathy." Choucho (Gargantia) was previously tagged to its opening.
The first home video has been scheduled for September 27th
There are also new preview pics of the 3DS card game, due in September.
Bonuses for the limited edition include
-Deformed figure ("minicchu" series)
Prisma Illya mini deoformed figure based on Kengo Yakumo's original illustration
-Original drama CD
TV anime edition cast performed original drama CD
-Original illustration special class card "Rider"
Anime staff original illustration card
------
Scott Green is editor and reporter for anime and manga at geek entertainment site Ain't It Cool News. Follow him on Twitter at @aicnanime.