3071 Japanese votes decide the ultimate dad in anime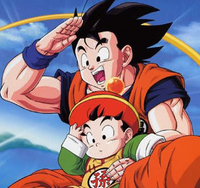 Who is the coolest dad in anime? NTT DoCoMo conducted a poll in Japan for coolest dad in anime and the result was posted on Goo Ranking. Voting opened on June 1st and closed on June 14th, 2013, just in time for Father's Day.
#1 Goku from Dragonball Z 1048 votes
#2 Kudoh Yusaku from Case Closed 586 votes

#3 Nohara Hiroshi from Crayon Shin-chan 276 votes
#4 Vegeta from Drangon Ball Z 208 votes
#5 Hoshi Ittetsu from Kyojin no Hoshi 204 votes
#6 Namikaze Minato from NARUTO 149 votes
#7 Kurosaki Isshin from BLEACH 117 votes
#8 Yagami Souichiro from DEATH NOTE 71 votes
#9 Maes Hughes from Full Metal Alchemist 70 votes
#10 Echizen Nanjiro from Prince of Tennis 57 votes
#11 Kaburagi T Kotetsu from Tiger & Bunny and Van Hohenheim from Full Metal Alchemist 52 votes
#13 George Joestar from JoJo's Bizarre Adventure 44 votes
#14 Kusakabe Tatsuo from My Neighbor Totoro 34 votes
#15 Ko Hiko / Buseiou (Wucheng Wang) from Hoshin Engi (Soul Hunter) and Fujimoto Shiro from Blue Exorcist 31 votes
#17 Hanma Yujiro from Grappler Baki 30 votes
#18 Hanahakajima Satoru from Sexy Commando Gaiden: Sugoi yo!! Masaru-san 11 votes
A lot of anime dads are missing from this list! For example, Ikari Gendo from Evangelion (then I remembered that this was "a coolest dad" poll). Who is the coolest dad you can think of in anime?