Limited streaming engagement simultaneously running with Japanese streaming campaign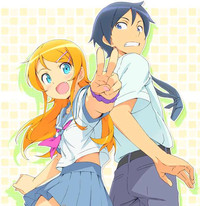 For everyone following OreImo 2 and wondering if Crunchyroll will stream the OVA episodes that follow the TV broadcast and be included on the home video release, your wish has been granted. Crunchyroll will be streaming the 3 OVA episodes starting on August 17th at 9pm PST, simultaneously with the Japanese streaming campaign with help from Aniplex USA.
The 3 OVA episodes will be limited to a 2-week engagement from the 17th to 31st, with Premium members being able to view all three episodes immediately on the 17th, while free users will be able to view the episodes one week afterwards. In addition, from the 17th to the 31st, OreImo 2 will be open to view for all users except for the following countries: Japan, Korea, China, Taiwan, Thailand, Singapore, France, Switzerland, Belgium, Algeria, Monaco, and Tunisia.
Below, the synopsis for the show:
"Kyousuke Kousaka is a high schooler who has been leading a quiet, humdrum life. However, his life is turned upside-down when his little sister, Kirino, comes to him for 'life counseling.' It turns out that Kirino, a well-rounded winner in life, has many otaku-ish hobbies and loves anime and games. Kyousuke sincerely takes on Kirino's request to tackle life counseling.
And so, as more and more people get involved--including Kuroneko and Saori Vageena, whom Kirino met via social networks; Kirino's friends, Ayase and Kanako, and Kyousuke's childhood friend, Manami--changes to their icy cold brother-sister relationship begin to appear. After overcoming the crisis of Kirino suddenly leaving to study abroad, what kind of craziness willher 'life counseling' cause next!"