New volume of "Oh My Goddess" and "Lone Wolf and Cub" omnibus also planned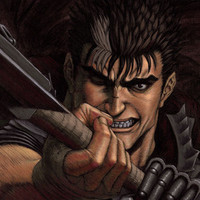 Sometimes Dark Horse might deserve some of the grief it gets for the long wait between volumes of manga, and sometimes its working with a monthly series that doesn't exactly stick to its schedule. The latter is undoubtedly the case with Berserk. A mere 10 months after the release of volume 36, volume 37 will be arriving this November.
Manga from Dark Horse's latest round of solicitations includes
Berserk Volume 37 TP

Kentaro Miura (W/A)

On sale Nov 20
b&w, 232 pages
$14.99
TP, 5 1/8" x 7 1/4"

Guts the Black Swordsman has again donned the accursed Berserker armor to battle the titanic Sea God—from the inside! To slay the creature, its heart must be pierced, but even if he can manage this impossible task deep within the leviathan, how will Guts get back out?

Lone Wolf and Cub Omnibus Volume 3 TP

Kazuo Koike (W), Goseki Kojima (A), Frank Miller (Cover)

On sale Nov 13
b&w, 720 pages
$19.99
TP, 5"x 7"

The roads of feudal Japan are rife with brigands, but for Ogami Itto and his son, the roads are deadly. Shogunate agents and Yagyu Retsudo's assassins dog their every step, but each step brings the Lone Wolf and his Cub ever closer to Yagyu . . . and to vengeance.

Oh My Goddess! Volume 45 TP

Kosuke Fujishima(W/A)

On sale Nov 20
b&w, 176 pages
$12.99
TP, 5 1/8" x 7 3/16"

Oh My Goddess! is back . . . and so is Mistress Hild, who intends to get the truth out of Hagal about the reasons behind her coup. But the demon usurper isn't the only person who's been less than forthcoming about things, and now Belldandy and Keiichi must face judgment on their love . . . by a goddess who can claim seniority over all the sisters!
Also of note
Empowered Special: Nine Beers with Ninjette

Adam Warren (W/A/Cover) and Takeshi Miyazawa (A/C/Cover)

On sale Sept 25
b&w, 32 pages
$3.99
One-shot

Kick back and have a cold one with hearty-partying Ninjette, Empowered's Best Friend Forever, as she weaves a boozy yet poignant tale of ninja magic, complete with fighting, flirting, and swing-dancing with the Maidman—not to mention the outwitting of 'Jette's monstrous thug of a father. Drink up!
Speaking of Berserk, they're ramping up promotion for the home video release of the final movie of the Studio 4C anime trilogy. In addition to limited edition box art, they're keen to showcase masks that will be given away at lead-in events.
------
Scott Green is editor and reporter for anime and manga at geek entertainment site Ain't It Cool News. Follow him on Twitter at @aicnanime.