Biglobe ranks the anime girls whose love gets a little stabby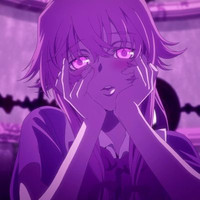 Let's face it: a yandere girl isn't for everyone. Some people just don't have the fortitude for obsessive love with a twist of violence. For those who like their waifus with a touch of the crazy, Japanese poll site Biglobe stepped up to the plate to find out which yandere girls were the hottest of the hot.
The top ten:
1. Yuno Gasai - Future Diary

2. Ayase Aragaki - Oreimo
3. Kurumi Tokisaki - Date A Live
4. Kotonoha Katsura - School Days
5. Rena Ryuuguu - When They Cry

6. Shion Sonozaki - When They Cry
7. Shouko Kirishima - Baka To Test

8. Sayaka Miki - Puella Magi Madoka Magica
9. Rika Furude - When They Cry

10. Suigintou - Rozen Maiden
So what do you think? Are any of these girls waifu material? Would you date a yandere? Will anyone ever de-throne Yuno as the best yandere? Sound off in the comments!
Via Sankaku Complex (NSFW)
-------
Amanda Rush is the Associate Editor for Ani.Me and contributor for OtakuCollectionDX. She swears in the middle of the night on Twitter as @TheAnimaven.