Linked Horizon released a special video message on outside screens in Shibuya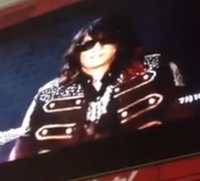 This just in! Linked Horizon's official Twitter account posted a few tweets that contain some codes a few days ago, and well-trained fans were speculating that there would be something going down on the birthday of Revo, the lead of the group, or the Emperor of Sound Horizon Kingdom, which is June 19th.
According to fan blogs like this one, the decoded tweets read that the full music video of "Guren No Yumiya," the opening theme of Attack On Titan, will be premiered on large outside monitors in Shibuya around 9pm of June 19th and that's exactly what happened. Fortunately, a fan posted the video for the rest of us!
You can hear the fans scream when Revo himself appears after the anime version of the song ended. Revo greets the people by introducing himself, announcing that the groups' maxi-single "Jiyu E No Shingeki" which contains both opening themes for the anime will be released on July 10th. Then he proceeds to say that today, June 19th, is his birthday and he would like to premiere the full music video of "Guren No Yumiya" as a reverse suprise birthday gift to fans.
Linked Horizon maxi-single "Jiyuu E No Shingeki" First Limited Edition
CD x DVD (Guren No Yumiya Music Video)
1,800 yen
Normal Edition CD Only
1,200 yen
As many people expected, the second verse of the song doesn't sound anything like the first verse! What do you guys think?