Cos Cos Play Play blog posts more photos of cosplaying voice actors from TORIKO x Gintama show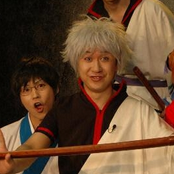 As previously reported, Japanese cosplay variety show "Cos Cos Play Play" will air a special TORIKO x Gintama show on June 28th and the show's blog posted more photos from the show!
A whole Yorozuya group with Sugita Tomokazu, the voice of Gintoki as Gintoki in the center with cosplayers.
Yep, that's Gintoki right there.
Okiayu Ryutaro, the voice of Toriko as Toriko in the center and Matsuda Kenji, the voice of Zebra as Zebra on the left. They both look amazing! The host of the show, Kendo Kobayashi is cosplaying as Zonge (whatever that is).