Turn any text into the logo style of the popular series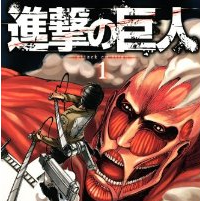 Just for fun, the Attack On Titan Logo Generator decorates any text into a logo that looks like the series logo!
For example:
Here is what the site looks like:
The top black border is the menu. From right, you can switch to other logo generators such as Lucky Star, Puella Magi Madoka Magica, Haganai and Certain Scientific logo generators, then there is a link to the album of all the Attack On Titan style logos created with the generator.
The rectangle on the right under the black border is where you enter the first line of the logo. Underneath, you can enter the second line of text in alphabet. Then you can choose either to make it public, that will put your logo in the album, or not. In the image above, it's checked to make it not public. When you are ready, click the blue rectangle and watch your logo generated.
On the left under the site logo, there is a poll to vote for the cooler logo, if you feel like it.
I tried it with English to see how it would look:
I guess it does not look as cool as if you make it with Kanji.
I also tried the other generators, the Lucky Star one is also easy to make, while the others were pretty complicated.