Special Character song week showcasing songs before release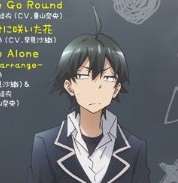 The My Teen Romantic Comedy SNAFU official site is having a Special Character song week and posting preview videos of character songs that are updated everyday! Day 2 featured a song by Hachiman, Zaimokuza and Totsuka called "Going, Going, Alone Way!"
Day 1 was a song by the double heroines from the show, Yukino and Yui, "Bitter Bitter Sweet".
The character song album will have total of 8 songs by all the characters you see on the front cover. Yes, Komachi and Hiratsuka Sensei have their own song, not to mention Totsuka, as well.
And the guys on the back cover got a song, too. One group song with Totsuka, which is the first video in this article. The character song album is set to be released on July 10th in Japan for 2,625 yen.