The government will start promoting "sacred places" to foreign anime fans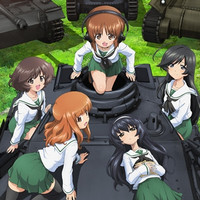 Oarai Creative Management, a small company in Oarai, Ibaragi Prefecture, has collaborated with the popular TV anime series GIRLS und PANZER to promote tourism to the local area where the main story of the anime has taken place. The Japan Tourism Agency, an extra-ministerial bureau of the Ministry of Land, Infrastructure, Transport and Tourism, announced on June 19 the winners of its first "Imashika Dekinai Tabi ga Aru (The trip you can go only now)" award to encourage tourism among young people. Oarai Creative Management was chosen as one of the three winners of the Encouragement Prize for its effort to promote the local area of Oarai collaborating with the GIRLS und PANZER anime series. The prize‐awarding ceremony will be held at the Ministry of Land, Infrastructure, Transport and Tourism on June 26.
It was also reported on June 20 that the Japan Tourism Agency, Ministry of Economy, Trade and Industry, Japan National Tourism Organization, and Japan External Trade Organization released a joint action plan to encourage foreign tourists to visit "sacred places" in the anime and manga world, which is indeed, "Seichi Junrei" in Japanese. As you may know, "Seichi Junrei" means to visit locations where actually appeared in the stories of anime and manga. It has been very common for Japanese fans to go to the places related to the stories. The Japanese government expects foreign anime/manga fans will visit Japan to follow the trend. The organizations will provide tourism information on such "sacred places" and popular anime/manga/game-related events to the world. Will the "Seichi Junrei" tourism help Japan's bad economy?
Source: Oarai Creative Management's Twitter, Fukui Shimbun
image © GIRLS und PANZER Projekt