Plus a solo performance by Momoclo!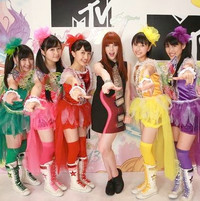 One of the highlights of last weekend's MTV Video Music Awards Japan (which we reported on here) was a once-in-a-lifetime team up between Western pop princess Carly Rae Jepsen and j-pop idol sensations Momoiro Clover Z for a full blown performance of Jepsen's smash hit "Call Me Maybe". Finally, the clip is now viewable online, and you can watch the resulting East meets West musical mashup below (everyone leaps onstage around the 00:57 mark)!
Apologies that Momoiro Clover Z misses an opportunity by not actually singing on the track itself, but I'd like to think they were resting their golden pipes for their own performance of their song "Saraba, Itoshiki Kanashimitachi yo" which took home top VMAJ honors for Best Choreography. And what do you know? That entire performance is now viewable below, too!
--------
Patrick Macias is editor in chief of Crunchyroll News. He also runs the Japanese Fashion Inferno tumblr blog. Follow him on twitter at @Patrick_Macias.