The 4th robot anime series by Ryosuke Takahashi (Dougram, Votoms, Galient)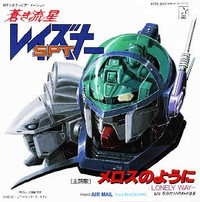 It is officially announced that VAP will release HD-remastered Blu-ray disc sets of Sunrise's real robot anime series in the mid-1980s Blue Comet SPT Layzner in Japan on September 18. The 4th robot anime series directed by Ryosuke Takahashi (Fang of the Sun Dougram, Armored Trooper Votoms, Panzer World Galient) was aired in Japan for 38 episodes from October 3, 1985 to June 26, 1986. The story was followed by a third part of the OVA series which was released in October 1986.
The new official site for the Blu-ray boxes was opened on June 25. The Blu-rays will be released in three editions. "Blue Comet SPT Layzner: Recollection 1996-2000 Blu-ray BOX" will contain all of 38 episodes of the TV series and 3 episodes of the OVA series. The first-press only limited edition will come with a 32-page booklet, audio commentary, and a box with new art by the original mechanical designer Kunio Okawara. The price for the limited edition box is 47,250 yen (about US$483.12). The price for the TV episodes-only box is 36,750 yen (about US$375.76) and that of the three episodes OVA-only box is 7,140 yen (about US$73).
1st OP "Melos no Youni Lonely Way" EP
2nd ED "La Rose Rouge" EP
Source: AV Watch
© Sunrise