"That swimming anime" starts on July 3, at 12:15 p.m. Pacific Time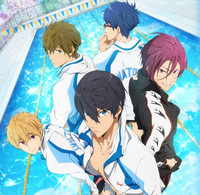 NOW IT CAN BE TOLD! Starting next week, one of this year's most anticipated anime titles (and one of the most anticipated anime titles in recent memory), Free! – Iwatobi Swim Club, will begin streaming right here on Crunchyroll! The fun starts on July 3, at 12:15p.m. Pacific Time for its premium members, with free members able to watch one week later.
Background and story info
One of this summer's most hotly anticipated titles, Free! – Iwatobi Swim Club finally makes its debut after months of speculation. Originating from what appeared to be simply a commercial from Animation Do and Kyoto Animation, many fans fervently hoped for a full-length anime from the production studio that had previously made hits such as K-ON! and The Melancholy of Haruhi Suzumiya.
The plot revolves around a group of five high school boys who are all connected by their love of swimming: Haruka Nanase, Makoto Tachibana, Nagisa Hazuki, Rei Ryugazaki, and Rin Matsuoka. The boys are all voiced by an equally appealing cast of actors, with Nobunaga Shimazaki, known for his roles in Photo Kano and Say "I love you", as Haruka, Tasuhisa Suzuki, also in Kuroko's Basketball and Saint Seiya Omega, as Makoto, Tsubasa Yonaga from Chihayafuru and Cardfight!! Vanguard as Nagisa, Daisuke Hirakawa of Tono to Issho and Hiiro no Kakera as Rei, and Mamoru Miyano of Death Note and Steins;Gate fame as Rin.
Free! – Iwatobi Swim Club will be available to Crunchyroll's audience in the following territories: USA, Canada, United Kingdom, Ireland, South Africa, Australia, New Zealand, Finland, Norway, Sweden, Denmark, Netherlands, Turkey, Latin America (Central and South America including Caribbean), Spain, and Portugal.
The show page will be live soon at www.crunchyroll.com/swim
--------
Patrick Macias is editor in chief of Crunchyroll News. He also runs the Japanese Fashion Inferno tumblr blog. Follow him on twitter at @Patrick_Macias.