Umeda Burg Seven Theater hosts an exhibition focused on Gintoki before the movie's opening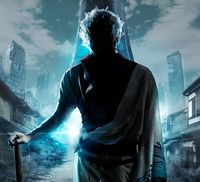 We saw the voice of Gintoki, Sugita Tomokazu in Gintoki cosplay that was pretty convincing a week back, and now a live-action Gintama movie poster tribute is being released by one movie theater in Japan. The Umeda Burg Seven Theater in Osaka will hold an exhibition that focuses on the man that is Gintama, Sakata Gintoki, called "Soul of Silver -the man called Sakata Gintoki-".
The Hollywood movie-style poster of the exhibition features a live-action Gintoki, above.
The "Soul of Silver" exhibition opens on June 29th, a week before the movie's opening of July 6th only at the Umeda Burg Seven Theater. At the same time, the theater building will have wall panels with Gintoki's famous lines and the visitors can collect 3 lines from the panel on the entry card provided to exchange it with the theater exclusive "Real Gintoki" postcard. Postcards are available for attendees, but in limited quantities.
Fans are wondering who this "Real Gintoki" is. Is this Sugita again? Or possibly Sorachi-sensei? No details are available at this time.