The film is slated for the 2014 Spring release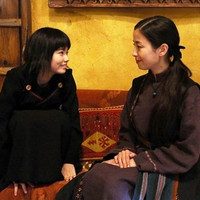 Three new photos from Takashi Shimizu's live-action film Kiki's Delivery Service are revealed to the Japanese media today. It is also announced that Kiki's mother Kokiri, who is also a witch, is played by 40-year-old actress Rie Miyazawa and her father Okino is by 42-year-old actor Michitaka Tsutsui. Miyazawa won the Best Actress Award at the 23rd Moscow International Film Festival for her performance as Cui Hua in the 2001 Hong Kong film Peony Pavilion directed by Yonfan. Tsutsui is well known for his debut film as an actor Bataashi Kingyo in 1990, which was based on a popular manga series by Minetaro Mochizuki.
The shooting of the film still continues in Shodoshima, a small island of the Seto Inland Sea of Japan till the end of July, and it is scheduled to be released in Japan in Spring 2014.
16-year-old Fuka Koshiba as 13-year-old Kiki
Source: Cinemacafe