Famous Gundam MS designer's directorial debut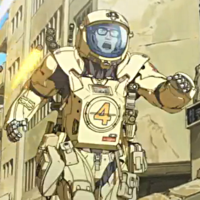 Japanese movie studio and production company Shochiku posted a 15-second short preview for Bukiyo Saraba/A Farewell to Arms, one of the four short stories of the upcoming omnibus film Short Peace today. The anime short is directed by Hajime Katoki, who is best known for his design works for various Gundam franchise.
AKIRA's Katsuhiro Otomo, who also directs "Hi no Youjin" in Short Peace, created the original manga story for the November 16 of 1981 issue of Shueisha's Weekly Young Magazine. Tatsuyuki Tanaka (AKIRA, Roujin Z) designs the anime version characters. And of course Katoki also works as a mechanical designer for the short. The omnibus film will open in Japanese theaters on July 20.
"Bukiyo Saraba/A Farewell to Arms" preview
The poster for "Bukiyo Saraba"
"Short Peace" teaser
"Short Peace" full trailer
© SHORT PEACE COMMITTEE
© KATSUHIRO OTOMO/MASH・ROOM/SHORT PEACE COMMITTE