Plus more pictures of that "Naruto" train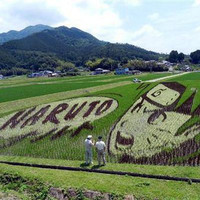 In Okayama Prefecture, there's a whole lot of Naruto-loving going on right now. Some rice farmers have made Naruto art out of their fields - after all, Okayama is home to Naruto creator Masashi Kishimoto.
The rice was planted on May 19th:
This is what it looked like on June 2nd:
June 8th:
June 17th:
And the finished product, on June 25th. The different colors are made by planting different strains of rice.
And while we're at it, here's some more pictures of the train:
Would you ride around town on a Naruto train?
-------
Amanda Rush is the Associate Editor for Ani.Me and contributor for OtakuCollectionDX. She swears in the middle of the night on Twitter as @TheAnimaven.