Directed by Madhouse's Kenji Nagasaki (No.6, Gundam AGE, Blast of Tempest)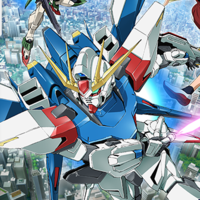 As many have predicted, the next Gundam series will be Gunpla-related. It is officially announced today that the newest Gundam TV series titled Gundam Build Fighters will start airing on TV Tokyo and its affiliates in October this year. The series is directed by 34-year-old director Kenji Nagasaki who directed the No.6 TV anime series in 2011, and has drawn storyboards for many anime series including Mobile Suit Gundam AGE, Aikatsu!, Blast of Tempest, and Guilty Crown.
The story of Gundam Build Fighters is set in the near future world when Gunpla Battle, a fighting competitions using Gundam plastic models have become popular worldwide. Sei Iori, the only son of a model shop owner meets a mysterious boy named Leiji. They will aim for victory at the world tournament of Gunpla Battle.
PV
You can check more information at the Gundam Build Fighters official site.
Key visual
Staff:
Director: Kenji Nagasaki
Script supervisor: Yousuke Kuroda
Character designer: Kenichi Ohnuki
Character design cooperation: Suzuhito Yasuda
Mechanical designers: Kunio Ogawara, Junichi Akutsu, Junya Ishigaki, Kanetake Ebikawa, Kenji Teraoka
Source: Gundam Build Fighters official site
© Sotsu/Sunrise/TV Tokyo