8 years since his last Gundam works "Mobile Suit Zeta Gundam" film trilogy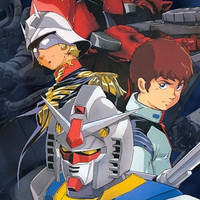 71-year-old anime director Yoshiyuki Tomino is known as one of the original creators of the long-running Gundam series. He directed the first TV series Mobile Suit Gundam (1979-1980) and many other Gundam TV series and films. It was officially confirmed by Bandai yesterday that his newest anime work will be released as a part of the 35th anniversary of the Gundam franchise. Bandai didn't call it a new "Gundam" series directly at the press conference. But since it is a part of Gundam's 35th anniversary project, it is natural to assume that Tomino's new work will be related to the Gundam world or franchise.
The title of the new series will be announced later and it is planned to be released sometime between 2014 to 2015. Tomino's last Gundam-related anime work was a movie trilogy Mobile Suit Zeta Gundam: A New Translation released in 2005-2006. It was previously reported in August 2012 that Tomino had
worked on a project called G-Reko with Gundam's anime production studio Sunrise. However, the connection
between G-reko and Tomino's new series is still unclear.
It was also announced that the anime adaptation of Yoshikazu Yasuhiko's Mobile Suit Gundam: The Origin
manga which was based on the first TV series will be released around the same time, 2014 to 2015.
Yoshiyuki Tomino
Tomino's Gundam anime works:
Mobile Suit Gundam (1979-1980)
Mobile Suit Gundam: The Movie I (1981)
Mobile Suit Gundam II: Soldiers of Sorrow (1981)
Mobile Suit Gundam III: Encounters in Space (1982)
Mobile Suit Zeta Gundam (1985-1986)
Mobile Suit Gundam ZZ (1986-1987)
Mobile Suit Gundam: Char's Counterattack (1988)
Mobile Suit Gundam F91 (1991)
Mobile Suit Victory Gundam (1993-1994)
Turn A Gundam (1999-2000)
Turn A Gundam I: Earth Light (2002)
Turn A Gundam II: Moonlight Butterfly (2002)
Mobile Suit Zeta Gundam: A New Translation I - Heirs To The Stars (2005)
Mobile Suit Zeta Gundam: A New Translation II - Lovers (2005)
Mobile Suit Zeta Gundam: A New Translation III - Love is the Pulse of the Stars (2006)
Source: Mantan Web
© Sotsu/Sunrise