El anime se estrenará el día 7 de julio en Japón y podrá verse en Crunchyroll.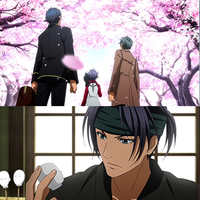 La televisión japonesa ha comenzado a emitir un anuncio de la segunda temporada del anime Hakkenden: Eight Dogs of the East. En el vídeo se puede escuchar el tema "wonder fang" de Faylan, opening de la serie.
El anime se estrenará el día 7 de julio en Japón.


Cinco años atrás, todos los habitantes del pueblo de Ootsuka murieron debido a una plaga… todos menos uno. Pero el superviviente solo habría deseado poder morir junto a sus dos queridos amigos.
Para prevenir la muerte de aquellos que habían sido prácticamente su familia, uno de los muchachos accede a un pacto con un misterioso hombre justo antes de morir. Milagrosamente, los tres muchachos aparecen vivitos y coleando en una iglesia de un pueblo cercano.
Poco después, la Iglesia Imperial expresa su interés en poseer a "Murasame", una espada demoníaca de la cual se dice que "contiene vida", pero… ¿qué conexión tienen los tres supervivientes de la plaga con dicha espada legendaria?


La primera temporada se estrenaba en enero de 2013 y contaba con un total de 13 episodios producidos por Studio Deen.
El manga original de Miyuki Abe comenzaba a publicarse en 2005 y actualmente cuenta con 13 volúmenes.
Fuente: ANN