"Brave 10" Premium Set planned for October 8th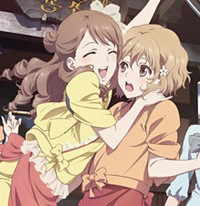 NIS America had three license announcements at Anime Expo. A collection of ninja anime Brave 10 is planned for October 8th, while the new Hanasaku Iroha: Home Sweet Home anime movie and Genshiken Second Season okau comedy will be coming later.
Hanasaku Iroha: Home Sweet Home
Ohana returns in a feature-length film with the rest of the Kissuiso staff to continue to learn more about each one of the characters in the series - including the backstory surrounding Ohana's mother.

About the show:
Ohana was living a normal high school life in Tokyo until her mother ran off and sent her to live with her grandmother, who owns a rural hot spring inn called Kissuiso. Thrust into a life where the customers always come first, Ohana struggles to find her place at the inn and fit in with her fellow coworkers. Yesterday, Ohana was an ordinary high school student. Today, she's an attendant at a hot spring inn. As the days go by, she continues to grow her relationship not only with her fellow peers, but also with her estranged grandmother.
BRAVE 10 Complete Series Premium Edition
The epic tale of ten stalwart warriors who wield mystical powers and ethereal ninja abilities will be released in North America on October 8 of this year. Follow Saizo Kirigakure and the rest of these historically famous warriors as they become intertwined in an escalating conflict between Ieyasu Tokugawa and Yukimura Sanada. BRAVE 10 will be packaged in a highly collectible slipcase, including 2 Blu-ray discs for your viewing pleasure, and a fan-favorite hardcover art book filled with information and detailed artwork from the series.

About the show:
Life is tough during the Warring States period of medieval Japan: Lords battle lords for control of the country, while samurai and mystical warriors do their bidding from the shadows. Backstabbing and betrayal is common, and legendary ninja Saizo Kirigakure has had enough.
He lives only for himself—until a girl with a mysterious dark power falls into his arms. He quickly finds himself dragged into a struggle between powerful warlord Ieyasu Tokugawa, and the strange but alluring Yukimura Sanada. Saizo becomes one of "Sanada's Ten Braves" who use their mystical powers and ninja abilities to protect the people and things they care about the most.
Genshiken Second Season (working title)
Genshiken is a slice-of-life anime surrounding the happenings of an eclectic gathering of otaku college students in their "Society for the Study of Modern Visual Culture" club at Shiiou University. This series is a continuation of the first season of Genshiken, which will follow a bunch of brand-new club members as they interact with each other and experience each individual's lifestyle choices.

About the show:
After reflecting upon last year's low freshman turnout, Chika Ogiue, the new president of Shiiou University's "Society for the Study of Modern Visual Culture" (aka Genshiken) seeks out new freshman members to join. At the freshman welcoming hall, while stealing angry glances at Kanako Ohno, the previous club president (who was having fun cosplaying, as usual), she puts on a flashy drawing performance. Suddenly two girls, freshmen Rika Yoshitake and Mirei Yajima, respond to her performance by joining the club. It turns out the girls have a reputation as "dirty girls" just like Chika, and the three birds of a feather do indeed flock together.
Meanwhile, a clean-cut beauty with chestnut hair appears at the club office asking to join up. But as it turns out, she's actually a cute boy in drag... With new and unique freshmen members onboard, things in Genshiken Second Season are about to heat up!
------
Scott Green is editor and reporter for anime and manga at geek entertainment site Ain't It Cool News. Follow him on Twitter at @aicnanime.