Hundreds of hours of content includes 11 key titles, additional license rescues announced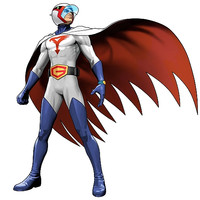 Sentai Filmworks had news of its own to make at Anime Expo on Thursday and it didn't disappoint, as it announced a new licensing deal with old guard animation studio Tatsunoko Production whereby the distributor will obtain hundreds of hours of programming from the studio and the deal centers around 11 key titles that have yet to be named outside of the already confirmed Gatchaman and Casshan, with more specific details coming during this year into next year.
In addition it also confirmed that Chūnibyō Demo Koi ga Shitai! is planned for release in the first quarter of next year on DVD and Blu-Ray during its panel.
To close out the announcements, Sentai also announced license rescues for two ADV Films era titles in Divergence Eve and Yumeria, both planned to be releassed in complete collections in November.
---
Humberto Saabedra is the Owner of AnimeNews.biz, Editor-in-Chief of PhoneNews.com and an occasional columnist for Ani.me. He can also be found musing on things (and Nico Robin) at @AnimeNewsdotbiz