New titles include classic "Cat's Eye, "Princess Nine" and "Blessings Of The Campanella"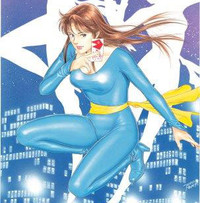 Anime producer and distributor Right Stuf, Inc. made several announcements during its July 5th panel at Anime Expo 2013. Cat's Eye was the newest title announced to receive the special Nozomi Entertainment limited edition treatment. Nozomi also provided new details about its current video and print projects, including the upcoming limited edition releases of Princess Knight and Space Adventure Cobra.
The Lucky Penny Entertainment label announced licenses for Princess Nine, Sengoku Collection (Parallel Universe Samurai) and Blessings Of The Campanella.
Princess Knight TV Series coming to DVD in August 2013!

The classic animated series has been painstakingly restored from multiple sources, and will be the sharpest this series has ever looked! Available on DVD to North American audiences for the first time in Summer 2013. (English audio version)

Mobile Suit Gundam UC will be released by Sunrise Inc. and distributed exclusively by Right Stuf, Inc. on DVD in North America, beginning in August 2013. The DVD series will be released over four volumes. Each volume will contain two one hour OVAs per volume with the exception of Part 4, which will feature OVA 7 and additional extras.

Parts 1 & 2 will be released on August 20, 2013 with Part 3 being released in November 2013 . Part 4 will be released sometime in mid-2014


Space Adventure Cobra: The Original TV Series will be released via Right Stuf's Nozomi Entertainment as two DVD sets, starting in late 2013, along with digital distribution. The upcoming home video release will mark the first time the anime TV series will be available to North American audiences.


Right Stuf announces the acquisition of Princess Nine, the 26-episode anime which first aired in Japan on NHK from April to October of 1998.

In the male-dominated sport of baseball, one group of high school girls is about to turn the world upside down. Ryo Hayakawa, the daughter of a legendary pitcher, leads the "Princesses" as they battle it out in a quest to gain respect and prove that there's nothing a man can do that a woman can't! Princess Nine will be released in 2014 as a complete series DVD set containing both Japanese and English audio, with optional on-screen translations.

Lucky Penny Entertainment announces acquisition of Blessings of the Campanella , a 12- episode anime series based on the Japanese visual novel "Shukufuku no Campanella" by Windmill . It first aired in Japan on Tokyo MX in 2010.

This is the story of Leicester Maycraft. He belongs to Oasis, a group of adventurers who work together to solve quests and fight vicious monsters. Or at least, that's what they're supposed to do. However, the female members of the group are usually too busy vying for Leicester's affections! Lately, the competition has only increased, thanks to an influx of cute girls arriving for the celebration of a rare meteor shower. What's more, as they gather together on the roof of the city's cathedral for a viewing party, a shooting star strikes one of the cathedral's spires. The event awakens Minette, a cute automaton in the form of a girl who calls Leicester "Papa!"

Blessings of the Campanella will be released in 2014 as a complete series DVD set with Japanese audio, English subtitles and on-screen translations
Right Stuf also announced its license for the 26-episode television series Sengoku Collection (also known as Parallel World Samurai).
This unique samurai fantasy tale is based on a social networking game created by Konami. Sengoku Collection is directed by Keiji Gotoh (Kiddy Grade) with animation by Brian's Base as well as music by Tomoki Kikuya (Squid Girl). It aired during Spring of 2012 on TV Tokyo and was simulcast outside of Japan by Crunchyroll. This collection of stories follows historical samurai from the feudal period of Japan who are displaced from their universe by fate, and transported to a parallel world much like ours. Even stranger is that these feudal lords have taken the form of high school girls! Coming from the medieval era, they find themselves amazed and challenged by everything they encounter in modern day Tokyo… but while some embrace this new world, others seek to return to their own time and place.

Sengoku Collection will be released on DVD in 2014 with Japanese audio, English subtitles and on-screen translations.

Right Stuf announces its license for the action-packed comedy Cat's Eye. The 73-episode TV series is based on the manga created by Tsukasa Hojo ( City Hunter, Angel Heart ) and features character design by Akio Sugino ( Black Jack, Cobra ). It aired in Japan from 1983 to 1985.

Cat's Eye will be released beginning in 2014 with Japanese audio, English subtitles and on-screen translations.

Michael Heinz, a famous painter and art aficionado, has gone missing along with his immensely valuable collection of rare and precious works. His three daughters, Ai, Hitomi, and Rui, believe that the missing pieces could contain the only clues to their father's whereabouts. Because of this they've decided to liberate these works of art from their current owners! Before each theft, the trio always informs the owner by using a special calling card inscribed with the name "Cat's Eye." The girls avoid suspicion, despite running a coffee shop by the same name right across the street from the police station. Can the girls find their father before their masquerade is finally revealed?
The first print run for volumes 4 and 5 of Hetalia Axis Powers is scheduled for December 2013.
Thanks to a special arrangement with TOKYOPOP and Hetalia's Japanese publisher Gentosha Comics, the first print run of these books will include an eight page color insert!

Once the initial print run sells out, the volume will be transitioned to Right Stuf W's print on demand program.
The first three volumes of the Hetalia manga are available now.